Painter and theatre Painters
Abdullayev Mikayil Huseyn oglu

People`s painter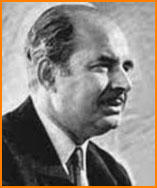 (19.12.1921, Baku – 22.08.2002, Baku)– Azerbaijan people`s painter (1963). Corresponding member of the USSR academy of Arts (1958). Azerbaijan State prize laureate (1974). international Nehru prize laureate (1969). Professor (1973).
He graduated from Azerbaijan painter school named after A.Azimzadeh (1939 and Moscow state painter institute named after V. I. Surikov (1949). Abdullayev has played the important role in the development of Azerbaijan descriptive art, has enriched art of socialist realism with high ideas and drawing words
He has praised soviet patriotism in his portraits and historical compositions which he drew during the Great Patriotic War. His creative work has become more perfect in next years from war. The spiritual beauty modern, persons of modern village have been described in indicator boards describing native nature.
«Happy» (1956) Indicator board shows mother love. Optimism is the basic feature of Abdullayev indicator boards.
« In the field » (1960), « Old shepherd », «Girl from Karabakh», « Kolkhoz woman from lenkeran» (1963–64), «In Absheron» (1964), «Masalli girls» (1966), «tea filed in Astara» (1967), « Paddy worker girls » (1970) and other stages of labour persons, way of life have been given in works in the lyrical style
« In Azerbaijan fields » (1964–65) has been reflected invincibility ,spiritual unity of the soviet people in years of The Great Patriotic War.
Abdullayev approachs with loving to classic achievements of national heritable, uses in the creative work of another people art heritable. Subject of foreign country take wide place in his creative work. in 1956-71 years India, Afghanistan, Hungary, Poland, Italy etc. During journey in countries in the range of drawings («Benqal girls», «Rejastan üomen», «Old Afghan», «Kishfaludi-Shtrobl», «R. Quttuzo», «J. Mansu» and others.) take basic places national and private description, plastic, colour richness. Especiall knowing as master of themathic indicator boards, has created portrait gallery.
« M. Gorki in Baku, 1928M.» (1950), «Ü. Hajbeyov» (1944), «Semed Vurgun» (1944, 1959, 1975), «Net master A. Babayev» (1961), «M. F. Akhundov» (1962), «M. P. Vaqif» (1968), «İmadeddin Nesimi» (1973), «Pionist F. Bedelbeyli» (1975) and in other portraits Abdullayev could skillfully open their character.
He has given arrangement to romans M. İbrahimov «Next day»(1951), S. Rəhimov «Shamo» (1954) , «Kitabi-Dede Qorqud» (1956) epos, dreü illustrations to M. Fuzuli «Leyli and Majn» (1958, 1971) , Ü. Hajibeyov «Leyli ad Majnun» (1965), «Koroglu» (1967) operas, Niyazi «Chitra» ballet (1972).
His works have been demonstrated Paris, London, Berlin, Montreal, Prague, Budapest, Belgrade, Sofia, Warsaw, Dehli, Cairo, Brussels. Private exhibition of the painter have been held in Berlin and Leipizig, 1966-1967. He is the deputy of Azerbaijan USSR higher soviet (the 5-9th call). He have been awarded with order of Lenin order and October revolution .