Dövlət teatrları
Azerbaijan State Academic Drama Theatre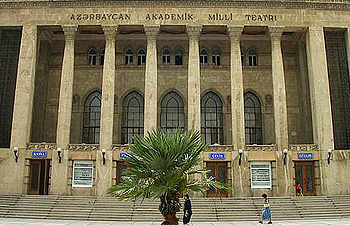 In 1873, 10th of March with the M.F.Akhundov`s play "Vizier of Lankaran khanate" was founded professional theatre in Azerbaijan. This spectacle was prepared by the students of Baku Real school with the initiatives of Hasan Bey Zerdabi, in «Club of aristocrats».
The theatre, which previously performed spectacles in the form of various troupe (at theatre groups under the "Nijat", "Safa", "Hamiyyət" cultural-educational societies, as well as in the form of the "Muslim Drama Artists Union", "Brothers Hajibeyov administration"), since 1919 till date had been functioning under the status of the State Theatre.
The name of the theater in various years was as Government teatro, the United State Teatro, Azerbaijan Turkish Drama Teatro, named after Dadash Bunyadzade (1923-1933) and Mashadi Azizbeyov (1933-1991). In 1959, for the highest academic achievements the Academic name was given to the theater. This Arts center is called as Academic National Drama Theatre since 1991.
Present building of the theatre have been constructed in 1960. Author of the project to construction of the building was Gazanfar Alizadeh, second author was head engineer Muzeffer Mədətov, Executor of work has led Boris Presman.
Two tier halls of the theatre have been intended for 553 spectators. Spectator salon consists of the pit, first and second tier from amphitheater and boxes. General spectator capacity of the pit is 344 places, consists of 13 rows, central box. There are 98 spectators in the first tier, 111 spectators in the second tier, total 209 spectators will be able to sit in the amphitheater.
Administrative structure of the theatre have been included creative and technical staff, department of producer activities and analytical information, archives , museum and other parts.
According to State Program Azerbaijani Theatre in 2009-2019, approved upon the Decree of President Ilham Aliyev, signed on 18 May 2009, after capital repair and installation of up-to-date equipments Academic dram theatre opened on 18 March 2011. 11 new spectacles have been prepared till end of the year. Theatre living 140th season and collective works on new spectacles.