Dramaturgiya və teatr Dramaturqlar
Anar
(1938)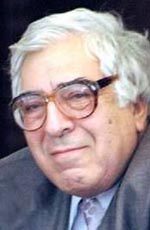 Anar Rasul oghlu Rzayev was born to the family of Azerbaijani poets Rasul Rza and Nigar Rafibeyli on 14th of March, 1938.

At the same time Anar is grandchild of well known Social and state figure, The first minister of health of the Azerbaijan Democratic Republic, Governor-general of the Ganja city Khudat bek Refibeyli.

After finishing a 10-year music school in Baku, he entered the Philology Department at the Azerbaijan State University in 1955.

Anar is the President of the Writers Union of Azerbaijan and was Member of the Supreme Soviet and National Assembly several times.

"Lat day of last year" and "Longing for the Holiday" his first press stories published in Azerbaijan newspaper, 1960.

His works include: "Longing for the Holiday," (Bayram Hasratinda), "The Rain Stopped," (Yaghish Kasdi), "White Port," (Agh Liman), "A Persons Person" (Adamin Adami), "The Sixth Floor of the Five-Story Building" (Beshmartabali Evin Altinji Martabasi), "Opportunity" (Majal), "Ive Come to You" (Sizi deyib galmisham), "Without You" (Sizsiz), "Summer Days of the City" (Shaharin Yay Gunlari), "Hotel Room" (Otel Otaghi).