Dramaturgiya və teatr Dramaturqlar
Uzeyir Hajibeyli

(18.9.1885-23.11.1948)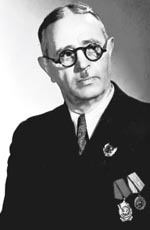 Uzeyir Hajibeyli was born in September 18, 1885, Agjabadi. He was an Azerbaijani and Soviet composer, conductor, publicist, playwright, teacher, translator, and social figure. Hajibeyli received his early education in a religious school. Uzeyir Hajibeyli`s first teacher was his uncle Agalar Aliverdibayov, an excellent connoisseur of Azeri folk music.
Shusha, often dubbed as the cradle of Azerbaijani music and culture, had a reputation for its musical heritage.In 1897–1898, when Azerbaijani playwright Abdurrahman Hagverdiyev and singer Jabbar Garyagdyoglu staged the episode Majnun on Leylis grave from "Leyli and Majnun", 13-year old Uzeyir sang in the choir. From 1899 to 1904 Uzeyir Hajibeyli studied at the Gory Pedagogical Seminary. He wrote the Turkish-Russian and Russian-Turkish Dictionary of Political, Legal, Economic and Military Terms.
In 1908, Hajibeyli wrote his first opera "Leyli and Majnun" based on the tragic love story by the 15th century poet Fuzuli. The opera was made by ``Nidjat`` society in 1908 on the 12th of January. The producer of the opera was tragic actor H. Arablinsky. Hajibeylis second opera Sheikh Sanan was written in 1909 in a form that was entirely opposite to the first. In contrast to Sheikh Sanan, Hajibeylis operas "Rustam and Zohrab" (1910), "Asli and Karam" (1912), "Shah Abbas and Khurshudbanu" (1912), and "Harun and Leyli" (1915) were entirely based on Azeri folk music elements, primarily mugam.
Hajibeyov died of diabetes at the age of 63, and was buried at the Alley of Honor in Baku. He got his high education in Moscow, 1911. in 1913 he graduated from St. Petersburg conservatory. While he was student he composed ``Shah Abbas and Khurshid Banu``, `` Asli and Karam``, `` Arshin Mal Alan``.