Dramaturgiya və teatr Dramaturqlar
Orkhan Firketoglu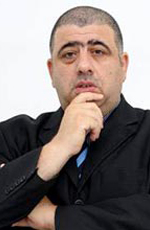 Orkhan Firketoglu was born in Baku, 1966. he graduated from Wolrd literature institute in Moscow (1983-1991). In different years he had worked in the "Azerbaijanfilm" cinema studio named after Jafar Jabbarly, State cinema comuty, AzərTelefilm and in ``Gunay`` newspaper as editor-in-chief. Now he works in ANS tv company as Head commentator. He is the author of Seven art proses book and Three publicistic books.

His first story has been published in ``Kirpi`` (Hedgehog) magazine, 1981. later he has got printed Hundreds of stories, narrative and publicistic information. His works has been printed in Iran, Turkey, Bulgaria and in different countries. His stories have been dropped to textbook of the Oxford university. His plays "TAS", "Qıyığın ölümü", "Şəkilçi və şəkilçi " were staged in different theatre of country.

He is the scenario author of films - "Qız Qalası" (2000), "Ərazi" (2006), "Yalan" (2006), "Kəpənək" (2007), "Ailə" (1998).