Dramaturgiya və teatr Dramaturqlar
Agshin Babayev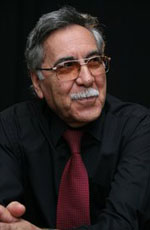 Agshin Babayev graduated from Azerbaijan state university, philology faculty. He is the author of 30 books. He had worked in the radio 30 years, 15 years in the National Assembly of Azerbaijan as press secretary. He is the hnored journalist. He was awarded the prizes of "Yusif Məmmədəliyev", "Həsən bəy Zərdabi", "Humay", "Qızıl Qələm" .

In 1976 he was appointed to the position Vice-president in the Azerbaijan television and radio broadcasting. He had worked there 15 years.

His first story was published in ``almanax`` magazine , 1958. his later works included- "Cazibəli üfüqlər", "Həmişəbahar", "Bir parça həyat", "Ağ ulduzlar", "Bir ürəyin hərarəti", "Ayrılıq", "Söz gülləsi", "Dünyanın axırı", "Kişilər az yaşadı" , "Bahar", "Xilaskar" , "Oğul" and others.