Teatr xadimləri Teatrşünaslar
Turan Javid

(1923-2004)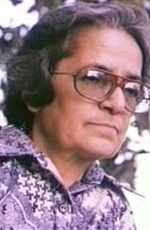 Turan Javid was an Azerbaijani Cultural worker, honored culture worker of Azerbaijan Republic (1982) , Huseyn Javid prize laureate (1997), president pensioner(2002), State member of amnesty commission (2000-2004). She is the daughter of Husen Javid. She graduated from the faculty of theatre science of Azerbaijan State theatre institute in 1950 and had been stayed as Teacher in the same institute. She read lectures about Azerbaijan theatre history , during 1950-1983.
She had worked as director (1968-1991) and as scientific worker (1953-1968). in the Archives memoir fund of the theatre museum named after J. Jabbarly. She is the author of film connected with Huseyn Javid - "Cavidanə Cavid". She had prepared texts for the Television programs and for spectacles- "Azərbyacan teatr tarixindən səhifələr" TV program, Theatre museum named after J.Jabbarly, about Abbas Mirze Shapirhzadeh (1973), about theatre (1974). Her texts about theatre museum - I program in 1970; II program about about Sketch -Model fund; III program Exhibits about Huseyn Arablisnky`s creative activity in the museum (1971); IV program about Jafar Jabbarly – 75 (1974); V program about Azim Azimzadeh (1980). She is the author of some articles connected with theatre science -" Exhibits of the theatre museum speak "(1974). ``100 annual of Huseyn Javid in Azerbaijan state theatre museum`` (1981), " development ways of Azerbaijan Dramatic Theatre" (1974). Her speech in the different ceremonies - ``Our present to 100 anniversary ``(1974); `` Pages from the theatre history``(1982); " valuable manuscripts " (1985); ``About Nakhcivan literature museum named after Jalil Mammadguluzadeh ``(1981); ``My memories about Kazim Ziya`` , " Role note-book of the actor"(1984).
During 1991-2004 she was a director of Huseyn Javid home museum. She has been non-substitutive services in the area of textual criticism. She is decorator of all books ( by Huseyn Javid) published during 1958-2004.