Teatr xadimləri Teatrşünaslar
Aziz Shariph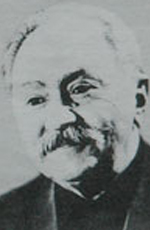 Aziz Shariph (1895-1989) - was an Azerbaijani critic, Literary critic, Translator, member of writers` union (19360, Doctor of Philology ( 1958), professor (1962), Honored scientist of Azerbaijan (1963).
Aziz Shariph was born in Nakhchivan, 1895. he got secondary education in Tbilisi, 1915. He continued his high education in Moscow institute of commerce (1915-1917). He has begun with literary activities from 1906. he has written «Naxçıvandan məktublar» article in «Molla Nəsrəddin» magazine. He had translated into Azerbaijani ``The Mother`` (1932) and `` Enemies`` by Maxim Gorky. He has worked in the area of press and publishing in Tbilisi (1920-1930), has been adviser in the Transcaucasia Central Executive Committee (1925-1935). He has finished Criticism division of the literature institute named after Maxim Gorky, in Moscow (1943).
He died on 1 June, 1989 in Moscow.