Teatr xadimləri Teatrşünaslar
Jabir Safarov

(1924-1990)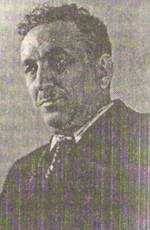 Jabir Safarov was an Azerbajani Critic, Specialist in drama study. He graduated from the faculty of Theatre science of Azerbaijan State theatre institute.
In 1948 he entered Azerbaijan State Theatre institute. He has worked with great theatre figures such as - Sidqi Ruhulla, Mirzəağa Əliyev, Ağasadıq Gəraybəyli, Mərziyə Davudova, Fatma Qədri, İsmayıl Osmanlı. After graduating university he had worked in the "Ədəbiyyat və İncəsənət" newspaper, Vice-president in the Azerbaijan theatre union, director of the ``Dostluq`` theatre, head teacher in the culture university.
He is the author of books- "Azərbaycan Dram teatrı", "Hacıağa Abbasov", "Ağdam xalq teatrı", "Şərəfli yol", "Teatr və dramaturgiya", "İbrahim İsfahanlı".