Teatr xadimləri Teatrşünaslar
Yashar Garayev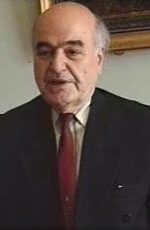 Garayev Yashar Vahid oglu – critic, he is the member of Writers Union from 1964, Doctor of Philology (1980), professor (1985), Azerbaijan State prize Laureate (1980), Honored scientific worker of Azerbaijan (1982), Real member of the Azerbaijan National Creative Academy (1990), Corresponding member of the National Academy of Sciences of Azerbaijan (2002).
Garayev Yashar was born in Sheki, 1936. He moved to Baku in 1946. he got education in Azerbaijan state university (1954 -1958). He had worked as Head laboratory assistant in the language and literature institute named after Nizami, junior scientific worker, head scientific worker, Head of the literary process and Theory department , Deputy on scientific work in institute.
He had began creative activity With the first literary notes in 1955. his articles and books have been printed under the name "Yaşar", "Q.Yaşar", "Y.Qarayev" . He is the initiator of the "Ədəbi proses" named annual scientific and critical magazine.
He died on August 25, 2002.