Teatr xadimləri Rejissorlar
Rza Tahmasib

(20.4.1894-14.2.1980)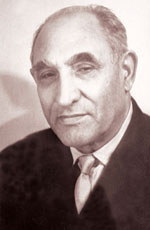 One of deliver Of the school of realist actor , characters master, actor who performed his Complex, Psychological and Social roles professionally, film director and actor was Rza Tehmasib. Rza Abbasgulu oglu Tahmasib was born in Nakhchivan City, on 20 April 1894. Tahmasib was born to a wealthy merchant family. He received his primary education at Maktab-i Tarbiyya school in Nakhchivan, where he learned Russian. Rza Tahmasib came in sight on stage for the first time in 1907 with the character of Chichikov ( Nikolai Gogol ``Dead souls``). In 1910 he left for Tiflis where he studied. He father was a famous merchant. he studied at a School of Commerce. During less time he got acquainted with literary life of Tiflis and joined amateur actors club. After graduating education in 1915 he moved to Baku. He worked in different works. In 1920 he began work in the National Dram Theatre.
He was one of the primary actors who approach seriously to Stage interpretation Of the image in our national stage, showing us that it is important factor opening of the character of the expressions of face. Rza Tehmasib had created unforgettable roles such as Aydin and Dovlet bek - ``Aydin`` , Elkhan and Abu Ubeyd – ``Fire Bride``, Balash -``Sevil``, Haci Ahmed - ``Almaz``, Imamyar - ``Yashar``, General – Qubernator -``In 1905`` by Jafar Jabbarly, Iskender and Haci Hasan agha -`The Corpses`` by Jalil Mammadguluzadeh, Satan and Arif -``Satan``, Sheikh Senan , Kykavus - ``Sheikh Senan``, Deli Knyaz -``Knyaz`` by Huseyn Javid, Ferhad and Haci Samed Agha - ``The unlucky young man`` , Perviz khan - ``Kohne Dudman`` by Abdurrahim bekh Hagverdiyev, Fakhraddin and Rustem Bekh -``The grief of Fakhraddin`` by Necef bekh Vazirov, Suleyman - ``Life`` by Mirze Ibrahimov.
He was one of the key figures in the Azerbaijan theatre. He had worked as producer in the National drama Theatre. He passed to cinema activity in 1930. his best screen work was ``Arseen mal alan``. He was awarded Stalin prize for this film in first half of the 1960s he was leader of Azerbaijan Theatre society.
In past he worked as teacher in Baku Theatre School and since 1946 worked in the Theatre institute as actor and producer. Tehmasib died on February 14, 1980 in Baku