Teatr xadimləri Rejissorlar
Mehdi Mammadov

(28.5.19182- 8.1.1985)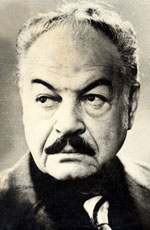 Mehdi Mammadov was born on the 22nd of May in Shusha. He got his first education in Baku. In 1935 he graduated from Baku Theatre School. He got his higher education in Moscow. In 1940 he put on stage Mammad Huseyn Tahmasib`s drama ``Spring`` in Ganja state drama theatre as graduation work. In 1946 Mehdi Mammadov started to work at the National Drama Theatre. He worked in this theatre with intervals. In 1960 he got a position of professor. Mehdi Mammadov is the author of books such as ``The aesthetic problems of Azerbaijan Dramaturgy``, ``Theatre thoughts``, ``Theatres Actors, spectacles``, ``Huseyn Arablinsky``, ``His star of art`` and others. Since 1945 started work as teacher in the Azerbaijan State Theatre Institute.
He was awarded the title of honored art worker of Azerbaijan ( 1949), Peoples artist (1958), Artists of the peoples of the USSR (1974). Mehdi Mammadov had a special role among national producers.
In different years had worked in the Ganja State Dram Theatre ( 1942-1945), State Dram Theatre ( 1960-1963), Opera and Ballet Theatre ( 1956-1960), Azerbaijan State Russian Dram Theatre (1978-1982).
Mehdi Mammadov died on January 28th , 1985 in Baku.