Teatr xadimləri Rejissorlar
Tofig Kazimov

(14.1.1923-2.8.1980)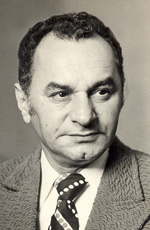 Tofig Kazimov was born on the 14th of January in Baku. He graduated from Theatre school ( 1939-1942). He worked as actor in the Ganja Dram Theatre. He performed roles such as Bulud in the spectacle ``Malik Mammad`` and Emrah in the spectacle ``Ana``.
He got his higher education in Moscow during 1945-1951. He produced the spectacle ``Kur Sahilinde`` in Aghdam State Theatre . In 1951 he put on stage Huseyn Mukhtarov`s drama "Ailə namusu" in Academic National Dram Theatre as graduating work. In 1952 started work as head producer in Young Spectators Theatre. Worked as a head producer at the Academic theatre from 1952 till 1980.
Young talented actors such as A. Panahova, Sh.Mammadova, H.Turabov and F.Poladov were drawn into the theatre during his chief producer periods.
He was awarded the title of honored art worked of Azerbaijan (1961), Peoples artist (1974).
He was the producer of ``Morning of the East`` 1960, ``Anthony and Cleopatra`` 1965, ``Lost diaries`` 1969, ``The Corpses`` 1966 and etc.