Teatr xadimləri Rejissorlar
Adil Iskenderov

(5.5.1910-18.9.1978)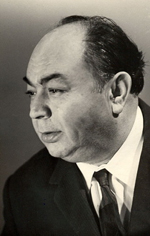 A remarkable image of Azerbaijani monumental producers , producer who have great services in forming of the actor ensemble in the Academic National Drama Theatre Adil Iskenderov was born in Ganja, on May 5, 1910. the real name is Ədil, in most documents has been presented as Adil proper to the Russian saying.
He interested in theatre art at the last class of the school. He has taken part in the Ganja worker club. During his student years in vacation time in Baku he has prepared spectacles with amateurs - ``Fire Bride``, ``Sevil`` by Jafar Jabbarly, "Namus" by Alexander Shirvanzadeh, ``Qacaq Kerem`` by Vano Mchedashvili. He had created roles of Balash ( Sevil), Shekinsky ( Oktay Eloghlu), Qacaq Kerem . in 1928-1931 he got education in Theatre school, in the producer-actor department.
He played in popular stages in the spectacles of the national theatre. From this point of view the character of ``Yasovul`` in the spectacle `Haji Qara`` has been more interesting. After graduating theatre school He entered to the faculty of producers of the State Theatre Institute in Moscow, on the recommendation of Jafar Jabbarly.
During students time he has passed serious experiments in the Moscow Art Academic Theatre, Vaxtangov theatre. İsgəndərov has been sent to prepare diploma spectacle to Baku when studied in the last course. He has begun to training the spectacles such as ``Platon krechet`` by Alexander Korneychuk, ``Polad Qartal`` by Ulvi Receb and Mustafa Merdanov. Premiere of the spectacle has been played in the 1936th year 3 of January. The first independent work of the producer has been valued excellently. After graduating education in Moscow he received assignment to Baku National Academic Drama Theatre. In 1937 has been substitute executor in the post of Head producer. On May 15, 1938 he was a head producer of the National Drama Theatre.
Later head producer post has been substituted artistic director post. In 1954 he has begun activities as director of the theatre. Adil Iskenderov carries out great reforms in the theatre, had formed strogn collective, had built rich and colorful repertoire. On 22 October, 1960 unexpectedly Adil Iskenderov has been removed of his post , in general of theatre. This event struck a blow to National Academic Drama Theatre. He was a producer of such as ``Shahsenem`` by Reynqold Qlier ( 1938), ``Vagif`` by Samed Vurgun in Azerbaijan State Russian Drama Theatre, ``Life`` by Mirze Ibrahimov in Baku Armenia State Drama Theatre, ``In 1905`` by Jafar Jabbarly. He wrote `` Partizan Memmed`` play together with Sabit Rehman and play was put on stage in Young Spectacles theatre, ``Daglar qoynunda`` comedy was put on stage in Musical Comedy Theatre with composer Eshref Abbasov.
Since 1937 he has worked as teacher in Baku Theatre School and later Azerbaijan State Theatre institute, he led to lots of courses. Since 1956 he was a professor. He was selected deputy to USSR Supreme Soviet (fifth-fourth-call). Adil Iskenderov had worked as a producer in ``Azerbaijanfilm`` studio and he was chairman during 1964-1974s. cinemas such as ``Ahmed haradadir? ( Where is Ahmed?) and others are his successfully screen achievements.
He was awarded ``Stalin Prize`` for ``Sergin sheheri`` ( Enver Memmedkhanli) spectacle, in 1948. He is the Peoples Artist of Azerbaijan on 17 June, 1943, Honoured art worker of Azerbaijan Soviet Socialist Republic (1938) and Peoples Artist on 9 June, 1959.
Adil Iskenderov died on 18 September, 1978 in Baku.