Teatr xadimləri Rejissorlar
Huseyngulu Sarabsky

(20.3.1879 - 16.2.1945)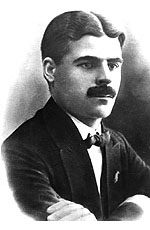 He was an Azerbaijani opera singer, composer, playwright, stage actor, theatre director, and musician. Huseyngulu Malik oglu was born in Baku. The role of Majnun was peformed by Huseyngulu Sarabsky more than 35 years. He was the first Majnunof our Opera stage. His incredible talent was noticed by Geniuses composer Uzeyir Hajibeyov his role in Almansor by Heinrich Heine where his performance of the Hijaz-i Arabi mugham.
Since 1906 Sarabski wrote three plays entitled Jahalat ("Ignorancy"), Akhtaran tapar ("He Who Searches Will Find") and Na dograrsan gashina, o chixar gashigina ("What Goes Around, Comes Around") and had them staged by both amateur and professional troupe.
Plays such as `` Almansor`` by Heinrich Heine, ``The Corpses`` by Jalil Mammadguluzadeh, "Molla Nəsrəddin" by Qulamrza Shariphzade, "Şamdan bəy" by Nariman Narimanov and others were successfully put on stage by him.
He had created unforgettable roles such as "Rüstəm və Söhrab" (Rüstəm), "Şah Abbas və Xurşid banu" (Şah Abbas), "Əsli və Kərəm" (Kərəm), "Şeyx Sənan" (Şeyx Sənan), "Ər və arvad" (Mərcan bəy), "Məşədi İbad" (Sərvər), "Arşın mal alan" (Əsgər), Zülfüqar bəy Hacıbəyovun "Aşıq Qərib" (Aşıq Qəpib), "Evliykən subay" (Orduxan bəy), "Əlli yaşında cavan" (Xosrov və Muxtar bəy), Müslüm bəy Maqomayevin "Şah İsmayıl" (Şah İsmayıl).