Teatr xadimləri Rejissorlar
Firudin Maharramov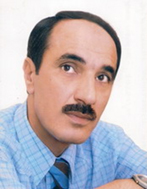 Life
Meherrem Firudin Elimemmed oglu was born on the 10th of March 1959 Lerik district of Azerbaijan republic. In 1983-1987 he got education in the Azerbaijan State University of Culture and Art.
He had produced a number of spectacles such as ``Aydin`` by J.Jabbarly, ``Door `` by O.Fikretoglu, ``Storm in the mountains`` by E.M.Leledag, `` First day of the holiday`` by N.Hikmet, `` My white pigeon`` T.Valiyeva, ``Rich woman`` by E.Emirly.
Awards
``Classic lucky experiment on the work``, 1998, Georgia international
``Golden mask`` festival
`` Ensemble of lucky actor``, 2005
He had produced spectacles such as ``Hicran``, ``Story of Danabash village``, ``Dream in post office``, ``Phone nights``.
Filmograhpy
1. Lost diaries (film, 1999)
2. Burned Bridges (film, 2003)
3. Chance (film, 2004)
4. part everyone (film, 2006)
5. Dancer (film, 2008)
6. silence conscience (film, 2010)