Teatr xadimləri Aktyorlar
Ulviyye Aliyeva

( Azerbaijan State Theatre of Young Spectators)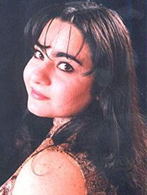 Life
Ulviyye Aliyeva Farhad gizi was born in baku, 1981. In 1999 she enetered Azerbaijan State University of Culture and Art. In 1998 she worked in the Azerbaijan state youth theatre. Her roles in this theatre – Nazli ``The Corpses`` by J.Mammadguluzadeh, Yegane ``Happy day`` by A.Amirly, Receptionist `` Doubtful story`` by Gabil, Ofelya ``after 20 years`` by Anar.
In 2001 he has accepted as actress to Azerbaijan state musical comedy theatre.
Her roles
– Ceyran ``Part of everyone`` by S.Aleskerov, Singer girl ``Love at the stage`` by S.Ferecov, Giyamet ``Awesome wedding ceremony of Beydulla`` by R.Akper, Elya ``Jealous hearts`` by R.Mirishli.
Filmography
1. Part of everyone (film, 2006)-Chichek
2. Neighbors (film, 2006)