Teatr xadimləri Aktyorlar
Gasimov Tariyel Isgender oglu

(Azerbaijan State Young spectators Theatre)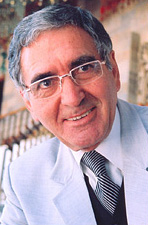 Tariyel Gasimov was born in Agstafa district of the Republic of Azerbaijan, 1939. He graduated from Azerbaijan state theatre institute –drama and actors faculty, in 1964.
In past he had worked as actor in the Academic drama theatre. Since 1964 he works as actor in the young spectators theatre.
He was awarded the title of honored artist in 1979 and peoples artist in 1991.
His main roles-
1. Cəlal, Bəxtiyar – («Koisomol poeması», İskəndər Coşğun)
2. Söhrab - («Söhrab və Rustəm», İskəndər Coşğun)
3. Zaur – («Yadındamı», Altay Məmmədov)
4. Pərviz – («Sən nə üçün yaşayırsan?» İmran Qasımov, Həsən Seyidbəyli)
5. Kazım – («Məhəbbət novellası», Şamil Xurşud, Əşrəf Hacıyev)
6. Meşədi Əzizbəyov – («26 Bakı komissarları» İskəndər Coşqun)
7. Polkovnik – («Kiçik torpaqda üç gün» Şamil Xurşud)
8. Zərbəliyev Səbzəli – («Məhəbbət, şeytan və lambada» Marat Haqverdiyev)
9. Salahov – («Sevirdim, çox sevirdim» Hidayət)
10. Qədim – («Bullur sarayda» İlyas Əfəndiyev)
11. Həsənzadə («Sən həmişə mənimləsən» İlyas Əfəndiyev)