Teatr xadimləri Aktyorlar
Imanova Leman

(Azerbaijan State Academic Drama Theatre)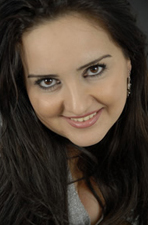 Imanova Leman Fuad qizi was born in the 23th of June, in Baku. She graduated from Azerbaijan State University of Culture and Arts , Faculty of producer of the theatre collective.
From 2002 through 2004 she worked as actress in the Baku municipality theatre. Her creative works in municipality theatre -Elektra ( "Elektra" Sofokl ) İradə ( "Daşa dönmüş ürəklər" X.Əlimirzəyev ) Cadə ( "Xəyanətin müsibəti" İ.Kərimov ) Arzu ( "Oğul" A.Babayev ).
Her roles in Acamedic theatre - Mariya ("Ağlasığmaz qətl" A.Kamyu) Dinarə (baş rol, "Başdanayağa oyun") Qəndab ("Ölüləri qəbristanlıqda basdırın" İ.Şıxlı) Liza ("Mesenat" Ə.Əmirli) Sənəm ("İkinci səs" B.Vahabzadə) Madmuazel ("Dirilən adam" M.Paşayev) Əsmər ("Fizuli və Əsmər" M.Seyidzadə) Esmiralda ("Kvazimodo" V.Hüqo) Mələk ("Alın yazısı" T.Minnullin) Qənirə ("İrəvanda xal qalmadı" H.Orucov).
She has performed role Oyya in the Tv spectacle ``Mukafat`` by A.Babayev, in 2004.
Tv Series - "Ünvansız eşq" (Sənubər), "Gürzə" (Səma), "Mənim üçün varsan" (Həkim), "Bacanaqlar" (Vəfa) .