Dövlət teatrları

Lenkaran State Drama Theatre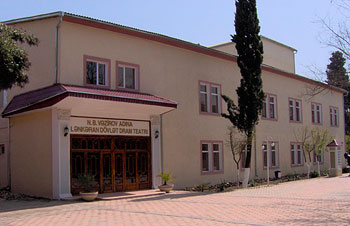 Lenkaran State Drama Theatre named after N.B. Vezirov was restored in 1973 with the play of M. Ibrahimov `` Good Man``.
Lankaran state dramatic theatre has carried out activity in the Lankaran city of Azerbaijan in 30-40s.
Except national playwrights` plays Russian and Western Europe classics` plays were also appealed in the Lankaran state dramatic theatre. A number of interesting spectacles such as "Vaqif" (Səməd Vurğun), "Lənkəran xanının vəziri", "Molla İbrahimxəlil kimyagər" (Mirzə Fətəli Axundov), "Qış nağılı" (V.Şekspir), "Tufan" (A.Ostrovski), "Bayramın birinci günü" (N.Hikmət), "Məhv olmuş gündəliklər", "Mahnı dağlarda qaldı", "Büllur sarayda" (İ.Əfəndiyev), "Alov" (M.Hüseyn), "Xoşbəxtlər" (S.Rəhman), "Yaşıl qapı arxasındakı qadın" (R.İbrahimbəyov), "Topal Teymur" (H.Cavid), "Cazibə qüvvəsi" (A.Sofronov), "Ölülər" (C.Məmmədquluzadə), "Nəsillər eşidin" (M.Musiyenko; the Azerbaijan Lenin komsomol prize, 1977), "İntihar" (Ə.Nesin), "Pul mənim, yar mənim" (E.de Filippo), "Mahmud və Məryəm" (Elçin), "Təhminə və Zaur" (Anar) were included in the repertoire of the theatre in different years. Talented actors such as B.Əlmiyeva, Q.Quliyev, K.Nəcəfov, artistlər E.Zeynalov, Ş.Mehdiyeva Qabil Quliyev, Böyükxanım Əliyeva, Sucəddin Mirzəyev, Adil Zeynalov, Miraslan Ağayev and others had worked at the Theatre.