Dövlət teatrları
Ganja State Puppet theatre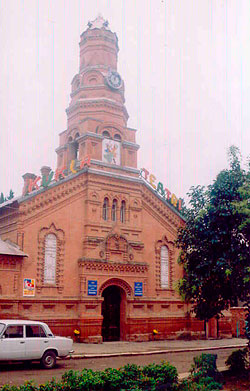 Ganja State Puppet theatre has carried out activity till1986 as people theatre. Theatre got state status on October 8th, 1986. Over 100 spectacles have been prepared during this time in the theatre.
Theater was a participant of International festivals of Puppet Theatre East people puppet theatre festival ( Almali, 1994), first international puppet theatres festival ( Kutaisi, 1996), puppet and shade plays festival ( Baku, 200), International Qaragoz puppet and shade theatres festival ( Bursa, 2001), ``Magic curtain`` child spectacles festival ( Torqovish, 2005), ``National classics at the stage of the puppet theatres`` festval ( Ivano-Frankovsk, 2005), ``Puppet theatres week`` ( Baku, 2008).
Current repertoire: N.Gəncəvi «Xeyir və şər», M.F.Axundov «Xırs quldurbasan», S.S.Axundov «Qaraca qız», A.Şaiq «Fitnə», R.Əlizadə «Keçəlin toyu», R.Həsənli «Ağca və qaraca», «Qoğal», F.Tarıverdiyev «Oğul-noğul», N.Kasio «İki dəcəl şirciyəz», «Qız qalası».
State orders: X.Əlibəyli «Aycan», M.Seyidzadə «Billur qəsr»
On state table: 38 Person
Honorary titles: 1 Person
Creative staff: 12 Person
President pensioners: not
President prize-winners: not