Dövlət teatrları
Azerbaijan State Russian Drama Theatre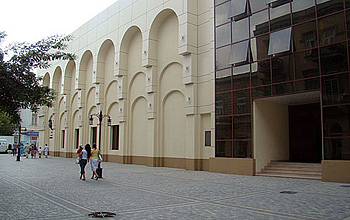 At the end of the 20th century there were Russian troupes in Baku. The most active and the most long lived troupe was created by Polonsky. This collective had worked in the Tagiyev`s theatre more than 20 years. The collective has its own constant repertoire, rich properties and Clothes departments, decor of ready scenery. Namely with consent and permission of Polonsky each Friday building of the has been given Lease to different theatre bunch of the Azerbaijanis.
Building has been undergone to terrible fire in February, in 1918. Company of actors has further disintegrated. In 1920 `Bat` theatre of Russia was on tour to Baku. The Red Army invaded Azerbaijan on April 28. Because of it, Tour of the "Bat" theatre has stayed unfinished, Collective has disintegrated , One part of the troupe stayed in Baku . the theatre was created in 1920 as a State Free Satirical Agitational Theatre. The first spectacle in theatre was shown on December 20th, 1920.
To the program of the first spectacle included little capacious composition such as "Lenin rapsodiyası", "Tutuquşu", "Karusel" which corresponding to the variety art genre. Repertoire of the theatre was often changed. Theatre was on tour to worker towns of Baku. In 1923, the theatre was renamed to Baku Workers` theatre.
Revolutionary plays have prevalence in the repertoire. Theatre was including to his its repertoire works played in different countries of USSR. From this point of view spectacles such as "Lyubov Yarovaya" (Konstantin Trenyov), "Zirehli qatar 14 - 69" (Vsevold İvanov), "Hücum" (Vladimir Bill-Beloserkovski), "Çörək" və "Küləklər şəhəri" (Vladimir Kirşon), "Nikbin faciə" (Vsevold Vişnevski), "Ana" (Maksim Qorki), "Mənim dostum" və "Sürət" (Nikolay Poqodin), "İntervensiya" (Lev Slavin), "Platon kreçet" and "Eskadranın məhvi" (Aleksandr Korneyçuk), "Şöhrət" (Vasili Qusev), "Çantalı adam" (Aleksey Fayko) has taken special place in the activities of the theatre. In 1930 the theatre was awarded to ``The Order of the Red Banner`` (was the first Soviet military decoration. The order was established on 16 September, 1918, during the Russian Civil War by decree of the All-Russian Central Executive Committee. It was the highest award of Soviet Russia, subsequently the Soviet Union, until the Order of Lenin was established in 1930) According to service in the area of propaganda of the revolutionary ideology. Name of the theatre has been written as Baku worker with a red flag theatre in the bills and spectacle programs. In 1937 theaters repertoire were enriched with works of the world classics and t writers. The theatre was called Azerbaijan State Russian Drama Theatre since 1937.
In 1956 the theatre was named after poet-playwright Samed Vurgun. the Russian Drama Theatre has always own importance in the cultural life of Azerbaijan. We shall be able to separate its conditionally to three section: Spectacles of the famous works of the world classics; Spectacles of the Russian classics plays; Modern world and Russian dramatist dramatic works. Classic and modern writers` plays spectacles. Spectacles put on stage by Azerbaijan authors: "Xırs quldurbasan" and "Lənkəran xanının vəziri" (Mirzə Fətəli Axundzadə), "Şeyx Sənan" (Hüseyn Cavid), "Aydın", "Sevil" and "1905-ci ildə" (Cəfər Cabbarlı), "Vaqif", "Fərhad və Şirin" və "Xanlar" (Səməd Vurğun), "Şərqin səhəri" (Ənvər Məmmədxanlı), "Kəndçi qızı" (Mirzə İbrahimov), "Sən həmişə mənimləsən" (İlyas Əfəndiyev), "Sən nə üçün yaşayırsan?..", "Dəniz cəsurları sevir" (İmran Qasımov və Həsən Seyidbəyli), "Xəzər üzərində şəfəqlər" and "Ömür elə qısadır ki..." (İmran Qasımov), "Sahillər və talelər" (Nəbi Xəzri), "Gecə yarısı kim gələcək?" (Maqsud və Rüstəm İbrahimbəyov), "Ultimatum", "Park", "Yaşıl qapı arxasında qadın", "İstintaq", "Qum üzərində ev", "Bir ailə üçün yaylaq evi", "Öz yolu ilə" (Rüstəm İbrahimbəyov), "Şəhərin yay günləri" (Anar), "Ah, Paris... Paris!.." and "Mənim ərim dəlidir" (Elçin), "Qətl günü" (Yusif Səmədoğlu).