Dövlət teatrları

Azerbaijan State Pantomime Theatre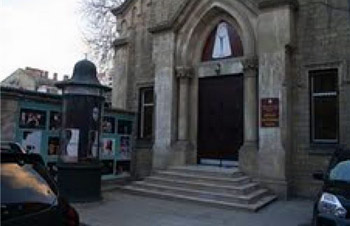 Azerbaijan State Pantomime Theatre is the first Pantomime Theatre in Azerbaijan. Pantomime is the art or technique of conveying emotions, actions, feelings, etc., by gestures without speech. Pantomime is the art of using movement and facial expressions rather than primarily the spoken word to communicate. The word pantomime has been used to refer to both an individual as well as an actual production or performance. An individual can also be called a mime but the contention of some that pantomime can only refer to a production is contrary to both the historical and modern popular usage of the word.

In Azerbaijan folklore theatre pantomime style has existed. This style also was called as ``Dumb play``.

State Pantomime Theatre May 16, 1994, established by decree of the Minister of Culture on base of "Crazy Assembly" Pantomime Theatre-Studio and functioned under the Theater of Young Spectators. In 2000, Pantomime Theatre-studio was given the status of the State Pantomime Theatre. Now theatre located at the AZ 1000 Azadlig prosp., 49 , in the building of the Shafag Cinema".

Theatre has toured in different countries such as Georgia, Ukraine, Russia, Turkey, Iran, France, Germany, Egypt, Finland, Switzerland, Austria.