Dövlət teatrları
Azerbaijan State Musical Comedy Theatre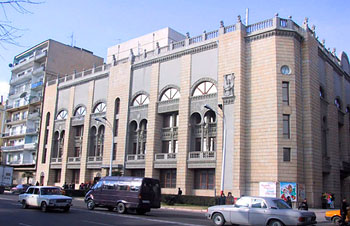 Z.Hajibeyov`s play `Single while married`` were successfully put on stage of the State Musical Comedy Theatre by Soltan Dadashov who got musical theatre producer education put on stage . First spectacle was shown at the Culture and Rest park ``Rote Fane`` ( Park named after Nizami) on May 30th, 1938. At the bill and at the top of Programs was written `` Azerbaijan State Musical Comedy Theatre``.
On June 22nd, 1941, Germany attacked Russia in "Operation Barbarossa". With the government decision activity -work principle of the Theatre was reconstructed again. Agitation function was given to the collective.
A year collective has carried out activity as propaganda acting company. Because of bunch was compact some actors have gone to another theatres.
At last, government gave order to name theatre as Azerbaijan State Musical Comedy Theatre on August 29th, 1942. On 27 April, Shemsi Bedelbeyli was appointed to theatre Director and artistic leader.
In 1943, the theatre was named after Prose-writer dramatist, publicist, Founder of the "Molla Nasreddin" journal Jalil Mammadguluzadeh.
Theatre carry out searches in the direction of modern subject in 1946-1949 has earned definite achievements. Theatre stepped on a new development stage. The collective began to prepare new performances one after one and enriched the repertoire: ``Gozun aydin`` ( by dramatist Muharrem Alizadeh and composer Fikret Amirov, 1946), ``Ulduz`` ( by Sabit Rehman and Suleyman Aleskerov). Some talented actors and Actresses such as Kazım Zeynalov, Tofiq Qasımov, Yusif Quliyev, Gulaga Məmmədov. Aliya Terequlova, Khalida Huseynova, Faxranda Agayeva (Ağazadə), Nasibə Zeynalova, Firangiz Şərifova, Nuriyyə Racabova, Azer (Azəri) Talıbova, Cahan Talıshinskaya, Elmira Akhundova, Nina Mironova, Fizza Seyidbeyova, Necibe Malikova.
Some Russian wonderful spectacles were put on stage at this section of the theatre. Till 1949-1956-1960s theatre put on stage spectacle at the summer gardens and summer theatres named after Ordubadi and Jabbarly. ASMCT was showing spectacles at the Dagustu, Nizami, Dzerjinsky parks , too. In the winter mouths, the Russian section of the theatre was playing spectacles at the Officers home as Azerbaijan State Russian Operetta Theatre. In the summer mouths was playing spectacles at the different summer theatres.
Nevertheless, during 1968-2004 in the repertoire of the theatre have been musical comedies were written by experienced composers and Composers throwing the first steps in this genre. Considerable sorts of the playing spectacles have been defective from point of view text, performances of producer system, actors staff. But there were also wonderful, interesting, sensible spectacles at the theatre. `` where are Unmarriedness? `` ( by Salam Qedirzadeh and Suleyman Aleskerov, 1968). `` Reign bird of my grandmother`` ( by Aliagha Kurcayli and Vasif Adigozelov, 1971), `` Həmişəxanım" (by Salam Qedirzadeh and Suleyman Aleskerov, 1971), `` Hicran`` ( by Sabit Rehman and Emin Sabitoghly, 1973), ``"Şəngülüm, Şüngülüm, Məngülüm" ( Children spectacle, by Ramiz Heydar and composer Oktay Zulfuqarov, 1974), ``New Bride`` ( by Seyfeddin Dagli and Janagir Janahgirov, 1975) and others are included in the repertoire of the theatre.