Dövlət teatrları
Azerbaijan State Puppet Theatre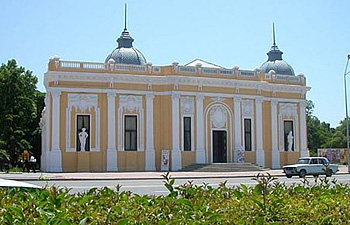 Azerbaijan State Puppet Theatre was founded by M. Bebirly. M. Bebirly was born in Baku, 15 September 1905. Since age 17 haf worked in the auxiliary staff of the theatre. In Moscow he got education on make-up and puppet-show professions. After graduating from the institute he came back to Baku and began to work at the Azerbaijan State Academic National Drama Theatre as actor. In 1930, May compact brigade of the theatre came to Aghdam to perform spectacles. M. Bebirly with his friends Musa Hachizadeh, Fazil Dadashov and Abbas Rzayev have shown first puppet spectacle. Spectacle played in the school has passed luckily and This achievement has incited him to work more confidentlies for wish. Azerbaijan State Puppet Theatre has been created in 1931. In the establishment of the theatre there was great labor of literature figure, playwright Jafar Jabbarly. For the first time the play of `Circus` was staged in 1932 on the stage of the Puppet theatre and thus the Theatre started to its activity. Inspite of it was very shot but at the same time it was very funny, entertaining and interesting for children. He prepared puppets in his house. He was shaving dolls from different trees and also prepared glove type dolls.
In 1933 Collective continues activity at the Young Spectators theatre as puppet department. In 1930 M. Bebirly prepared some spectacles such as ``Haci Qara`` ( by M.F. A) and ``The Corpses`` ( by J.M). in 1938 State Puppet Theatre carried out activity at the Music theatre. Connected with The Great Patriotic War in 1941-1945 theatre again moved to Young Spectators theatre building. In 1946 under the direction of M.Bebirly turned to independent collective again. Theatre has settled in the building of the 190th school. Nadir Zeynalov who worked at the Darband State Azerbaijan Theatre came to the Puppet theatre collective. His coming has played the invigorative part in style searches. in 1949 many state theatres including puppet theatre had been closed connected with passing to the system of work of financing themselves.
Theatre bunch has arisen in the little staff with selflessness and administration of Nadir Zamanov. 1950 , 1st of January company of actors began function at the Azerbaijan State Philharmonic Society. In 1962, 15th of November again included to the YST collective. The collective has been given to order of the bureau of orchestra musicians in Baku, in 1963, 6th of May.
The theatre`s state status was restored in 1964, 15th of April. It is an independent theater since 1965. Since 1965 the Theatre serves as Azerbaijan State Puppet Theatre. On the basis of this Ministry of Culture and tourism Republic of Azerbaijan has given 17th orders about begin activities of the Puppet Theatre in 1965, 3rd of February. Present Building in the seaside boulevard of the theatre has passed to the order of the collective . The play of M.Dilbazi ``Beauty Fatima`` was put on stage in 1965.
Art workers such as Oktay Dadashov, Shafiqa Akhundova, Hssanagha Huseynov, Lyubov Adamova, Shahmar Hüseynov, Ruslan Hasanov, Khadica Saidova has worked at the theatre.
Actors such as Mansur Mansurov, Tamilla Bunyadova, Rahila İbadova, Elmira Huseynova, Alibala Aleskerov, Rehman Rehmanov, Sona Rahimova, Alekper Huseynov , also talented young actors had worked at the theatre. Majority works in the collective now.
Azerbaijan State Puppet Theatre had been tour in Moscow (1937, 1977 and 1995), The Republic of Yemen –Arab country (1973), Uzbekistan (1973), India (1980), Iravan (1982), Tiflis (1984), Arkhangelsk ( (is a city and the administrative center of Arkhangelsk Oblast) (1988) ), Turkmanistan (1989), Iran 1990 and 1992) Turkey –Ankara and Istanbul (1991). Theater was a participant of International festivals of Puppet Theatre. Spectacles such as ``Revenge of the Bald`` (Kechelin qisasi - A.Abbasov, 1965), ``Dwarf`` (Cirtdan – M. Seyidzadeh, 1967), ``Magic pomegranate`` (Sehirli nar – M. Seyidzadeh, 1970), ``Twin brothers`` (Ekiz qardaslar), ``Brave Polad`` ( Qocaq Polad – T.Kazimov , 1974), ``Anecdote`` (Qaaravelli- Anar, 1975), ``Cunqush`` (KH. Alibekhli, 1979), ``Malik Mammad`` (tale, 1982) were successfully performed at its stage.