Musiqi və teatr Dirijorlar
Kazim Eliverdibeyov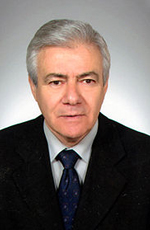 Eliverdbeyov Kazim Agalar oglu - conductor, honored art worker of Azerbaija republic Kazim Eliverdibeyov was born in Baku, 1934.
He graduated from ASC named after U.Hajibeyli Chorus conductor faculty.
Since 1960 he works as conductor and head conductor in the Opera and Ballet theatre, he work in the theatre till these days. he has conducted a number of opera and ballet spectacles such as «Leyli and Majnun», «Gelin gayasi», «Ashig Garib», «Shah Ismayil», «Vagif», «Madame butterfly», « The Barber of Seville», «Carmen» operas, « Don Quixote», «Jisel», «Caspian ballad», «Bolero», «Carmen suite», «Shopenine» ballets.
He is the professor of Baku Musical Academy.
He worked in Turkey, Izmir city as teacher in Izmir Conservatory.