Musiqi və teatr Dirijorlar
Afrasiyab Badalbeyli

(19.4.1907-6.1.1976)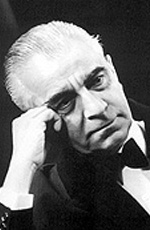 Afrasiyab Badalbeyli was born to Shusha natives Badal and Rahima Badalbeyli in 1907.
He also helped Uzeyir Hajibeyov, his cousin, to found the first musical theatre in Azerbaijan and also he has taken part at the Drama and opera spectacles. He performed Majnun`s part ( Leyli and Majnun``, Uzeyir Bey Hajibeyli).
His uncle was Actor, pedagogue, Famous performer of the woman roles in our national opera Ehmed Agdamski. His little brother Shemsi Badalbeyli was producer.
First author of the Azerbaijan national ballet, Well-known conductor, Music expert, Pedagogue, investigator and Author of librettos Afrasiyab Badalbeyli has played the tar beautifully. While getting education at the Azerbaijan State University he got job at the State Drama theatre. adalbeylis career in music began in 1928 when he composed music for Jafar Jabbarlys staged play "Fire Bride".
With the initiatives of Uzeyir Hajibeyli in 1929 at the Opera and Ballet theatre stage he has conducted the opera "Asli and Karam".
1930, Afrasiyab Badalbeyli graduated from the Azerbaijan State University and continued his education at a music school affiliated with the Leningrad Conservatory, which he finished in 1938. In 1940 he was awarded the title of the Peoples Artist of Azerbaijan.
Since 1930 till his death he remained a conductor at the Opera and Ballet Theatre. At the theatre he has conducted a number of operettas, ballets such as "Arsheen mal alan", "Leylia nd Majnun", "Asli and Karam" by Uzeyir Hajibeyli, "Shah Ismayil" by Muslum Magomayev, "Ashig Garib" by Zulfuqar bey Hajibeyov, "Sevil" by Fikret Emirov, "Aida" , ``Rigoletto" by Giuseppe Verdi, "Tosca" by Giacomo Puccini, "Giz Galasi" by himself, "The Golden Key" , "Mascarad" by Boris Zeidman, "The red poppy" by Reinhold Glière , "Swan Lake", "The Nutcracker" by Pyotr Ilyich Tchaikovsky, Arlekinado by Ricardo Drigon, "Doctor Aybolit" by Igor Morozov, choreographer poem "The Fountain of Bakhchisarai" by Boris Asafyev. He died on 6 January 1976.