Musiqi və teatr Bəstəkarlar
Gara Garayev

(1918 - 1982)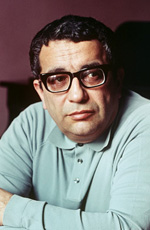 Gara Abulfaz Garayev was born on 5th of December,1918 in Baku, into the family of a doctor. He got his first music education in Music school and continued education in Bakus Music Conservatory. He studied Piano with Professor Georgi Sharoyev. In 1939 he entered Moscow State Conservatoire named after P.I.Chaikovsky. While styding at the Moscow State Conservatoire Garayev composed the heroic-patriotic opera "Vatan" , which he wrote with Covdet Hajiyev in 1944. Garayev was awarded the prestigious Stalin Prize.
in 1948, Garayev was awarded this prize for his symphonic poem Leyli and Majnun, based on the same-titled famous work of Nizami Ganjavi.
Garayev is remembered most for the following works: his symphonic poem "Leyli and Majnun" based on the poetic work of 12th century Azerbaijani poet Nizami, `` Path of Thunder`` (was dedicated to racial conflicts in South Africa), `` Seven Beauties`` ballet (Based on Nizami Ganjavis famous poem, Seven Beauties), `` Shadows of Qobustan``, ``Don Quixote``, `` Third Symphony``.
Garayev was known for his deep knowledge of numerous spheres in life. His intellectual level was acknowledged by all who knew him.
Garayev used his position to educate others about modern music. He organized evening performances of symphonic works of modern jazz and mugam music where he invited some of the most talented musicians to perform.
He composed music for cinema films such as - "Uzaq sahillərdə", "Don Kixot" ,"Qoyya" , "Bir məhəlləli iki oğlan" , spectacles such as " A Story About the Oil Workers of the Caspian Sea", "Vyetnam", " People who conquered sea " , " Optimistic tragedy ", "İnsan məskən salır", "Kral IV Henrih", "Othello", "Winter tale", "The Corpses", "Antony və Cleopatra".
Throughout his years as a professor at the Baku Gara Garayev taught many students, 70 of which have become composers, many of them famous in their own right- R.Hacıyev, F.Əlizadə, A.Məlikov, H.Xanməmmədov, V.Adıgözəlov, X.Mirzəzadə, O.Zülfüqarov, T.Bakıxanov and others. In 1959 he was elected an academician of the Academy of Science of Azerbaijan. From 1949-1952 he served as Rector of the Azerbaijan Conservatory . For 30 years , he also led the Composers Union of Azerbaijan. He left us with nearly 110 pieces, including ballets, operas, symphonic and chamber pieces, piano solos, cantatas, songs and marches.