Musiqi və teatr Bəstəkarlar
Muslim Magomayev

(1885 - 1937)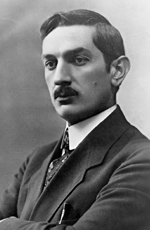 Muslim Mahammad oglu Magomayev was an Azerbaijani composer and conductor. Magomayev is the author of 2 operas, Popular songs, Orchestra music, Music to cinema and drama spectacles.
He was born in Grozny (18 September 1885). He had studied at a primary school in Grozny. In 1899 he entered Gori Pedagogical Seminary. There he first met Uzeyir Hajibeyli.
He went on to teach at the Nothern Caucasia and during 1905-1911 in Lankaran. With his initiative students created Chorus and Dramatic circles.
In past Magomayev played the violin in the orchestra, later Uzeyir Hajibeyli went to Moscow and St. Petersburg for education. Therefore The destiny of the theatre rest on the shoulder of the young Muslim. At this time he composed ``Sorrow waltz about country``, Mazurka "Seminarist" and a number of little compositions.
In 1916, Magomayev wrote his first opera entitled ``Shah Ismayil``. Opera based on the epic about Shah Ismayil Khatai who lived during XV-XVI century. He led to Peoples Commissariat for Education from 1921, from 1934 he had worked as director in the opera theatre, from 1929 he was appointed as Artistic director in the Azerbaijan radio broadcasting.
His later works included "Yaz", "Neft", "May", "Tarla", "Gözəlim", "Durna" ,"Azərbaycan çöllərində", "Ceyran", "Turacı" xalq rəqsi, "Dəli Muxtar", "RB-8" , "Xoruz bəy". Magomayevs most major work was Nargiz. Written in 1935.
He is the author of a number of music composed to films and spectacles such as ``The Corpses`` by J. Mammadguluzade, ``In 1905`` J.Jabbarly spectacles. Cinema films such as "Lök-Batan", "Bizim raport", "Azərbaycan incəsənəti".
He died in Nalchik, 1937. The Magomayev Azerbaijan State Philharmonic Society is named after Muslim Magomayev.