Musiqi və teatr Bəstəkarlar
Jovdet Hajiyev

(1917 - 2002)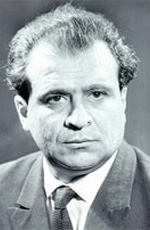 Covdet Hajiyev was born in Shaki, 1917. In 1924, his family moved to Baku. He got his first music education in Music school . In 1935, he entered Azerbaijan state conservaroty. He has composed his first works in 1936-1937 . Covdet Hajiyev continues his education together with Qaqa Qaarayev in Moscow , 1938 but World War II interrupted their studies and they had to return to Baku in 1941.
While studying he composed Double fugue, 3 fugues for stringed quartette, ``Azerbaijan suite`` for orchestra. Opera was awarded the prestigious USSR Prize. In 1947 he graduated education in Moscow conservatory.
In 1956 he wrote `` Symphony No. IV `` and it was valued as important event In the music life of our republic. Dmitri Shostakovich has valued work quite highly. Work consisted of 5 parts.
His last symphonic work entitled, "January 20", composed in 1991, was dedicated to the victims of Black January (1990). Hajiyev composed eight symphonic works, "Ballada", "Sülh uğrunda" , "Musiqi şəkilləri".