Musiqi və teatr Bəstəkarlar
Uzeyir Hajibeyli

(1885 –1948)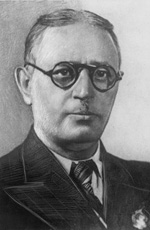 In 1938, he was awarded with the title of Peoples Artist of the USSR, He was also honored with the Order of Lenin and the State Stalin Prize, Hajibeyli was a professor at the Baku Academy of Music, Active Member of the Academy of Sciences of Azerbaijan. Twice Uzeyir Hajibeylis was deputy in the Supreme Soviet, the highest legislative institution in the Soviet Union.
Uzeyir Hajibeylis first teacher was his uncle Agalar Aliverdibeyov, an excellent connoisseur of Azeri folk music. From 1899 to 1904 Uzeyir Hajibeyli studied at the Gori Pedagogical Seminary. In 1905 he movet to Baku, where he carried on his career in teaching . ``The Epic of Leyli and Majnun``was written in the 16th century by Fuzûlî. Uzeyir Hajibeyli to create what became the Middle Easts first opera. It premiered in Baku on 25 January 1908. Later he wrote liberetto "Sheikh Sanan" –after the motif of a folk legend. His later works included - "Rustam and Zohrab" –Libretto ,after the motif by Ferdowsi.
"Shah Abbas and Khurshud Banu" –Manuscript. Libretto, after the motif of a folk legend. "Asli and Karam" (1912), "Harun and Leyla" (1915).
He is the founder of musical comedy genre in Azerbaijan. "Ər və arvad" (1910), "O olmasın, bu olsun" (1911), "Arşın mal alan" (1913).
He got education in Moscow and St. Petersburg conservatory during 1912-1914. From 1919 to 1920 Hajibeyli served as editor-in-chief for the newspaper Azerbaijan, the main governmental media body of the Democratic Republic of Azerbaijan. He composed a number of Anthems and marches. In 1921 with his initatives and administration has arisen Azerbaijan State conservatory , first musical school for Azeri students ``State Turkish Musical School``, Music collectives, symphony orchestra, Chorus choir, Azerbaijan folk musical instruments orchestra.
In this years he has created a number of works for repertoire of the collectives: "Çahargah" and "Şur" fantasies, "Azərbaycan türk el nəğmələri", cantatas, popular songs and others.
Koroğlu was written in 1936. The libretto is based on episodes from the Epic of Köroğlu. The opera premiered on April 30, 1937 at the Azerbaijan State Opera and Ballet Theater. In 1940 Uzeyir Hajibeyli composed romances "Sənsiz" and "Sevgili canan" for the lyrics by Nizami.
In 1945 he has been printed abstract science work "Azərbaycan xalq musiqisinin əsasları". Composer has written a number of works through the war, calling people to fight -"Şəfqət bacısı", "Ananın oğluna məsləhəti", "Əsgər marşı", "Yaxşı yol" songs, "Vətən" və "Cəbhə" cantatas.