Musiqi və teatr Bəstəkarlar
Fikret Amirov

(1922 - 1984)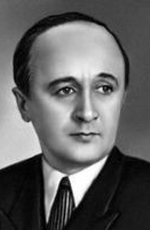 Fikret Amirov was a prominent Azerbaijani composer. His music was strongly influenced by Azeri folk melodies. He was extremely demanding and exacting, especially in terms of his own work. Amirov was involved with numerous responsibilities related to music. Music without emotion was not music for him.
He was born on November 22, 1922, in the city of Ganja. Fikrats father, Mashadi Jamil Amirov, was a famous mugam singer, who composed and played tar. He got first music education in Ganja and in 1939 he entered Azerbaijan State conservatory. Uzeyir Hajibeyli was among the first to notice Fikrats musical talent.
In student years he had written Variations and preludes, romances, "Ürəkçalanlar" (1944) and "Gözün aydın" (1946) musical comedies.His fIrst big symphonic poem is `Nizaminin xatiresine`` (1941). In 1943 he had written simphonyc poem "Böyük vətən".His later works inclueded - "Şur", "Kürd ovşarı", "Gülüstan-Bayatı Şiraz" "Azərbaycan süitası" (1950), "Azərbaycan qravürləri" (1977) "Nəsimi dastanı" "Xəzəri fəth edənlər" (1976) .
He is the first composer writing instrumental concert genre. a number of interesting works he has written in the genre of cell, vocal and instrumental music too - "Ulduz", "Gülərəm gülsən", "Azərbaycan elləri", "Mən səni araram", "Reyhan", "Gülür ellər" . he has composed music to dramatic spectacles - "Şeyx Sənan", "1905 – ci ildə", "Vaqif", "Xanlar", "Cavanşir" . for cinema films -"Şəhər", "Böyük dayaq", "Mən ki gözəl deyildim" and others. His ballets include "Nizami" (1947) and "1,001 Nights," An admirable quality of F.Amirovs ballet is its colourful and generous orchestral music, as well as the depth and intensity of its characters. Amirov wrote the opera "Sevil" in 1953.