Musiqi və teatr Bəstəkarlar
Agshin Alizade

(1937)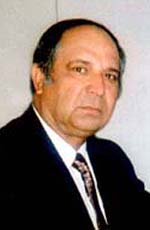 Agshin Alizade is notable craftsman. 1960s is the New stage in the history of music culture. It was time of Modern theme, New currents, New flows, Search of the expression means. One of such investigations is connected with Neoclassicism style .
A. Alizade was born in Baku, 1937. he got his first musaic education in music school named after Bul bul. Later he entered Azerbaijan State Conservatory. Works wrote in student years inform his big talent . Sonate for piano (1962) differs with timbre motley.
In 1966 he wrote II symphony for cell orchestra. there are relation of Musical language with mugham, ashug music and peoples dances. He wrote "Pastoral" and "Aşıqsayağı" "Uşaq süitası" for cell orchestra, too. Choir chorus work of "Bayatılar" arises in the 1969th year. It was big creative work achievement of the composer. Composer had given chorus stylistics in the skilfully form.
In 1976 100th anniversary of Meshedi Azizbeyov he wrote "26 - lar" cantatas. Work was awarded the state prize. His later works - "Sadlıq" "qədim nənni" əsərini, "Kənd süitası","Təntənəli marş" (1970), "Abşeron şəkilləri" (1977), "Qəhrəmani musiqi" (1978) , "Çiynində qartal gəzdirən", "Babək" , III and IV symphony, "Muğamsayağı", "Tütək səsi", "Ötən ilin son gecəsi", "Dəmir ağac" and other films "Nağılın başlanması", "Məhəbbət haqqında dastan", "Çinar ağacının sirri" .
Since 1962 he had worked as teacher in the Baku Muscial Academy named after Uzeyir Hajibeyli.